Abbiamo trovato l'esposizione che rivoluzionerà il vostro 2014 per assicurarvi il sorriso in questo piovoso febbraio! Dopo una tournée nord-americana di successo, The happy Show arriva nel cuore della capitale. Il grafico e artista austriaco Stefan Sagmeister celebra la ricerca della felicità attraverso opere e animazioni originali a la Gaîté Lyrique.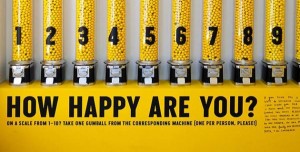 The Happy Show svela un percorso ludico e divertente. Tutto comincia da un distributore di carte per ogni visitatore che dovrà svolgere una missione nel corso dell'esposizione ( imitare un accento, farsi credere l'autore dell'esposizione..) Il tutto finisce con un grande invito: cambiare il proprio modo di vedere la vita !Non aggiungiamo altro per non rovinarvi la sorpresa !Approfittate subito di un vero momento di evasione in famiglia o tra amici !
Dal 28 novembre 2013 al 9  Marzo 2014 à la Gaîté Lyrique, 3 bis rue Papin, 75003 Paris
7€  entrata - Da martedì al sabato dalle 14h alle 20h,  la domenica dalle 14h alle 18h.