Closed for 25 years, returns the Molitor swimming pool in a new luxury version starting today! After three years of work, discover a 5 star hotel around the main pool, the "summer pool". The project is managed by the Accor Group and has 124 rooms overlooking the pool. The prestigious spa of 1,700 m² was given to Clarins and restaurants to the famous chef Yannick Alléno. A 33-meter indoor swimming pool completes the structure, with a fitness area near it.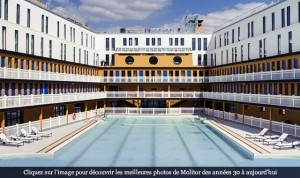 To celebrate the summer and his crazy nights, the rooftop terrace with views of the Eiffel Tower will offer you barbecue private spaces.
Exclusive and private, this is the most fashionable public swimming pool in Paris. You'll feel privileged everywhere: in the pool, bar, restaurant, roof top terrace and chambers, to be at the forefront in the events of  MOLITOR. € 3,000 for the privilege, with an entrance fee to € 1,200.
About the access to the public swimming pools by everyone it will be reduced by three weekly programs for local schools and a daily access fee to the Club is currently under discussion and a day's swimming will cost 180 euros.
Molitor, j'adore !
13 rue Nungesser et Coli, 75016 Paris, tél : 01 56 07 08 50, site : www.mltr.fr