We have found  the exposure  that will revolutionize your 2014 to make you smile on this rainy february! After a successful North American tour, The Happy Show arrives in Paris. The graph and Austrian artist Stefan Sagmeister celebrates the pursuit of happiness through work and original animations at the Gaîté Lyrique.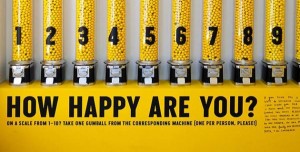 The Happy Show reveals a path playful and fun. Everything starts with a  card for every visitor that will be supposed to do a mission during exposure (to imitate an accent, pretend to be himself the author of exposure ..) This all ends with a big invitation to change their point of view about life! We do not add anything to not spoil the surprise! Take advantage of a real moment of escape with your family or friends!
From 28 November 2013 to 9 March 2014  the Gaîté Lyrique, 3 bis rue Papin, 75003 Paris
€ 7 entry – From Tuesday to Saturday from 14h to 20h Sundays from 14h to 18h.